Bob Karczewski, RPh
Director Client Services, Principal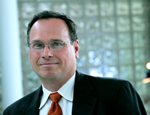 Bob likes to talk. He can talk to anyone. Even himself. For extended periods of time.
With his vast experience in the healthcare industry, Bob has built up quite a wealth of knowledge, and he's intent on sharing it with the world. Which is a good thing for the world, since Bob's seen and done it all. He's stood behind the counter as a pharmacist, carried a bag as a sales representative, and masterminded countless brand launches as a high-level account guy at agencies large and small.
Prior to forming REALITYRx, Bob was an EVP, Group Management Director at DraftFCB.
Bob lives in a 100-year-old house with his wife, 2 dogs, a cat, and two children who occasionally return to ask for money. He purports to be an excellent golfer, but this claim has been labeled "false and misleading" by regulatory authorities. Bob gave up a promising career as an accordion player to pursue his passion for healthcare.