Flint Cohen
VP, Creative Director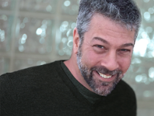 "Who names a kid Flint? " says our Creative Director, Flint Cohen, "You have a choice: either become a cowboy or a creative."
As evidenced by his portfolio of winning work, Flint chose the creative path.
Flint has developed just about every media targeted to nearly every audience possible. This diversity comes from having been a lead creative at Discovery Comm., consulting with such advertising powerhouses as BBDO, McCann-Erickson and Saatchi & Saatchi as well as staff positions with advertising agencies and in-house marketing departments. He draws unique strategic insight from his experience with major brands in the pharmaceutical, healthcare, medical and diagnostic device industries to address the needs of clients in an ever-changing, increasingly customer-driven market.
In his off-duty hours, Flint doesn't follow the beaten path either. He enjoys creating digital fine art. He is a PADI certified scuba diver, proficient welder and master chili chief. But his favorite pastime is being with his daughter, though she is still too young to appreciate his chili.
In many ways, Flint is a combination "creative/cowboy", and that has turned out to be a real asset in today's shifting landscape of healthcare communications.