Jonathan Male
CCO, Principal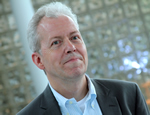 Jon is a sculptor. In his early days, stone, metal, and clay were his chosen media. Today, Jon sculpts brands, molding the raw material of products into artfully designed objects of desire in the healthcare market.
After several exhausting years exhibiting his artwork in galleries around the world, Jon settled down and spent the past 25 years exhibiting his creative talents in the world of consumer and pharmaceutical advertising. He has worked on numerous high-profile campaigns for companies such as Novartis, Kodak Health Imaging, Bayer Oncology, and Amersham Health. Jon's promotional work has of course also been recognized in national and international competitions, including the Medical Advertising Hall of Fame.
Prior to founding REALITYRx, Jon spent 12 years as Executive Creative Director at Interlink, taking it from $1.5 to $20 million in billings. He also established and supervised the i_link multimedia group.
Despite Jon's considerable accomplishments, the four lovely and headstrong women in his life keep him humble and motivated to realize the full potential of opportunities in today's healthcare market.